We receive many testimonial letters from our couples. They entrusted DSA Weddings with preparation of their perfect wedding day and did not regret it. Here are some of them:
EVGENIYA & ANDREY
If you dream about the wedding in Montenegro, than you have to stop here your search! 5th of September 2017 we had an official wedding ceremony. All organization was handled by DSA agency and they did everything excellent. I would like to thanks all DSA team, who did everything to make our day exactly as we wanted! All small details was considered before the wedding date. Every person in the team: manager, wedding coordinator, driver, stylist, photographer – are the professionals. Whit all of them was very easy to communicate and we felt that we are in safe hands. Wedding was just for two of us, and company provided us two witnesses. Especially thanks for that. Thank you DSA! You helped us to realized our dream about wedding on the sea.
Evgeniya & Andrey
IRINA & ANDREY
Hello, future newlyweds! This IS the place for your DREAM WEDDING.
I want to share the experience of our wedding in Montenegro … My husband was organizing an event first, he found a website of the wedding organization in Montenegro and contacted Alina, they discussed the details, we were fine with everything and asked them to organize a wedding for us. When all financial issues were solved, I was in charge of the preparation.) The organizing girls created a group chat in Viber (very convenient and mobile !!!) and were always in touch!
Irina & Andrey
ANNA & ANDREY
On July 18, 2017 we celebrated our wedding on the shore of Kotor Bay in Montenegro. This was an important step for both of us and my childhood dream as well – a beach wedding in the European style. I am so glad that I chose DSA Weddings for that!!!!
The guys not only did everything as we planned, but were also friendly and caring during the entire preparation for the wedding. They gave us a warm welcome, helped to solve not only wedding, but also travel issues. Even though it was only me and my husband at the wedding, it felt like we were among family and friends. All the staff, including a driver, were very caring, friendly, creating a festive mood!
And now about the main thing! They picked a venue we wanted, with a very beautiful view of the bay! We had a great team. Thanks to our manager Alina, our wedding guru Diana did everything for us and even more. Andria is a talented photographer, we really enjoyed our photoshoot, he could set free not only me, but my husband as well! His has made excellent and very beautiful photos.
Thank you, Natalia, my makeup artist! She did everything as I wanted: hairstyle and makeup were great! She is a real professional! Many thanks to our driver – a funny sweety! :)) and of course our Captain Alexander with his wife – for an unforgettable 2 hour trip on a yacht, with stories about Montenegro, its islands, home-made tasty wine and treats! Everyone was very friendly! In general, the celebration was great! I am more than satisfied with our wedding! I am very glad that everything was as we planned, including my bridal look and everything else! Thank you guys!!! You are cool:)))

Anna & Andrey
ANNA & ALEXANDER
Our wedding was on August 16, 2016. I want to express my thanks to the photographer (unfortunately I do not remember his name). The photos are great, like works of art. We really liked your professionalism and talent. We wish all the best and prosperity.
Anna & Alexander
VLADISLAV & ELENA
We started searching for a wedding venue more than 18 month ahead. Finally, we decided that Montenegro was best in price and even more romantic than other countries where Russian usually marry. There are plenty of companies offering wedding services in Montenegro, but we chose DSA for many reasons. While were discussing everything, they answered every single question, even though there were plenty of them, because we wanted not only an official wedding ceremony, but also to spend our vacation there (from 18.06.2015 to 9.07.2015). They helped us with everything: select apartments, a wedding venue, rent a car and even in issues when didn't have to. The apartments turned out to be exactly as in the photos, the DNS reaction to our every wish was very fast.
DSA rented us a car that we asked – VW Golf 2008 2.0 gasoline with mechanics. When we came to pick the car up, it turned to be under repair, but we were offered diesel AT Passat instead at the same price. We were a little skeptical at first, but after riding in the mountains, we were more than happy. It felt like driving in a cradle while visited soo many staff in a week! So, guys, we wish you all the best! A hearty thank you for the wedding celebration and the holiday, that took place thanks to you.

Vladislav & Elena
SERGEY & YULIYA
It's been two months after our wedding in Montenegro and I want to thank DSA (and specifically Sergey) for its organization! Everything was great! Managers seemed a little sluggish in the preparation at first, but acted brilliant on the spot. We will recommend you to friends.

Sergey & Yuliya
IRINA & VLADISLAV
I and my husband want to thank the whole DSA team for organizing our wedding! You guys are amazing, everything was exactly as we planned: the ceremony, flower decorations, stand-up meal and cars – everything was perfect! I want to say special thank you to Vika – it was her that we initially discussed the ceremony with, she was always understanding, in touch, I changed an arch, a bouquet, the buffet table a few times, but Vika did everything as I asked. Big thanks to Sergey – a wonderful person, he visited us at the hotel several times to specify all details before the ceremony and consider all our wishes.
I want to thank Natalia, make-up artist, as well! I felt like a princess at the wedding. Thank you, photographer Andria, you are a magician, 5 hours of shooting passed quickly.
The guys also helped us to book the hotel exactly that I wanted, they also arranged tickets from Moscow to our witnesses. They met us all at the airport, without delay, drivers were very friendly and answered all our questions.)) So, I can say with confidence that if we plan another event in Montenegro, we will turn to DSA only! We wish you conquer more horizons, as so many countries in the world need such professionals! )) Well done! Thank you!!!!

Irina & Vladislav
DMITRY & MARGARETH
We chose DSA to organize such an important event in our life as our wedding. We trusted this company because of a few positive reviews of the previous couples. And we fully agree with them! Our small celebration was in the town of Perast in April 2015. Feedback from Anton Klimov, who was our assistant throughout the preparation, was always fast. It turned out that organizational details can be easily solved even at a distance, if there is complete and exhaustive information. If you know exactly what you want from your wedding day, it can be organized only a few weeks. Communication through e-mail and skype was nice and pleasant, everything was solved and adjusted. Meeting at the airport, back transfer, assistance in choosing a restaurant on the spot are all nice additions to the main thing. We felt like everyone was interested in making everything smooth. And it did! Thank you all: Anton, Sergey, Dmitriy from us! For your hard efforts and work! Good luck!!!
Dmitry & Margareth
RUSLAN & NATALIA
We are sincerely grateful to DSA and personally Anton Klimov for organizing our wedding ceremony in Perast in September this year. From the first request for information, our communication was pleasant and efficient; all our questions were fully and quickly answered. The ceremony justified our expectations by 100%! The wedding venue decoration, driver's services, photographers – everything was at the highest level. We also want to thank Anton Klimov for changing the date of the ceremony due to rainy weather. We wish DSA agency cloudless days and the same happy customers as us! 🙂
Ruslan & Natalia
YANA & GERTH
Thank you so much for organizing our romantic wedding ceremony! Special thanks to Anton Klimov, who was attentive to all our wishes. Everything was as I wanted. We wish much success to the whole DSA company!
Yana & Gerth
ELENA & ALEXEY
Huge thanks to DSA-Weddings, Klimov Anton and everyone who took part in the preparation and organizing the ceremony of our silver wedding anniversary. Thank you for your kind words to us. The only worry was because of the hairdresser was late (but I still liked the hairdo, thank you, Natalia), despite half an hour delay because of this, the organizers were waiting for us and were very friendly. Everything was beautiful and unforgettable.
Elena & Alexey
ARINA & ALEXEY
We want to thank DSA-Weddings and Anton Klimov in particular for organizing our wedding on 11.08.2014. Anton patiently answered all our emails with plenty of questions and gave us full detailed answers. Thank you for the amazingly beautiful venue and that everything went smoothly. We wish you a success!

Arina & Alexey
ANNA & DENIS
Big thanks to DSA Weddings, especially Anton and Victoria, for organizing our wedding ceremony on the yacht and helping with tickets.

Anna & Denis
GALINA & EVGENIY
Our vacation was in July (2013), it was two in one to be exact – a symbolic wedding and then a honeymoon. Accommodation, tickets and everything else was organized by us, the wedding itself was organized by DSA Weddings. What I want to say about organization – we liked everything a lot, the day was like a fairy tale. The guys were very positive and friendly, we especially liked the photographer Andrew, even though both we and him were pretty tired by the evening, he still cheered us up and joked) I think that a big drawback is that the violation of the agreed deadline regarding photos and video. The video CD had to be ready in a week while we were on vacation, but we got a link to it only we arrived home, but this happens and it was just a little late. Before the wedding, they said that photos will be ready in 2 weeks, after the wedding the deadline was extended to a month. A month passed, now they tell me that they allegedly said it was 3 months deadline…. I don't like this at all, as I was expecting one term, waited, and then a huge failure…
Galina & Evgeniy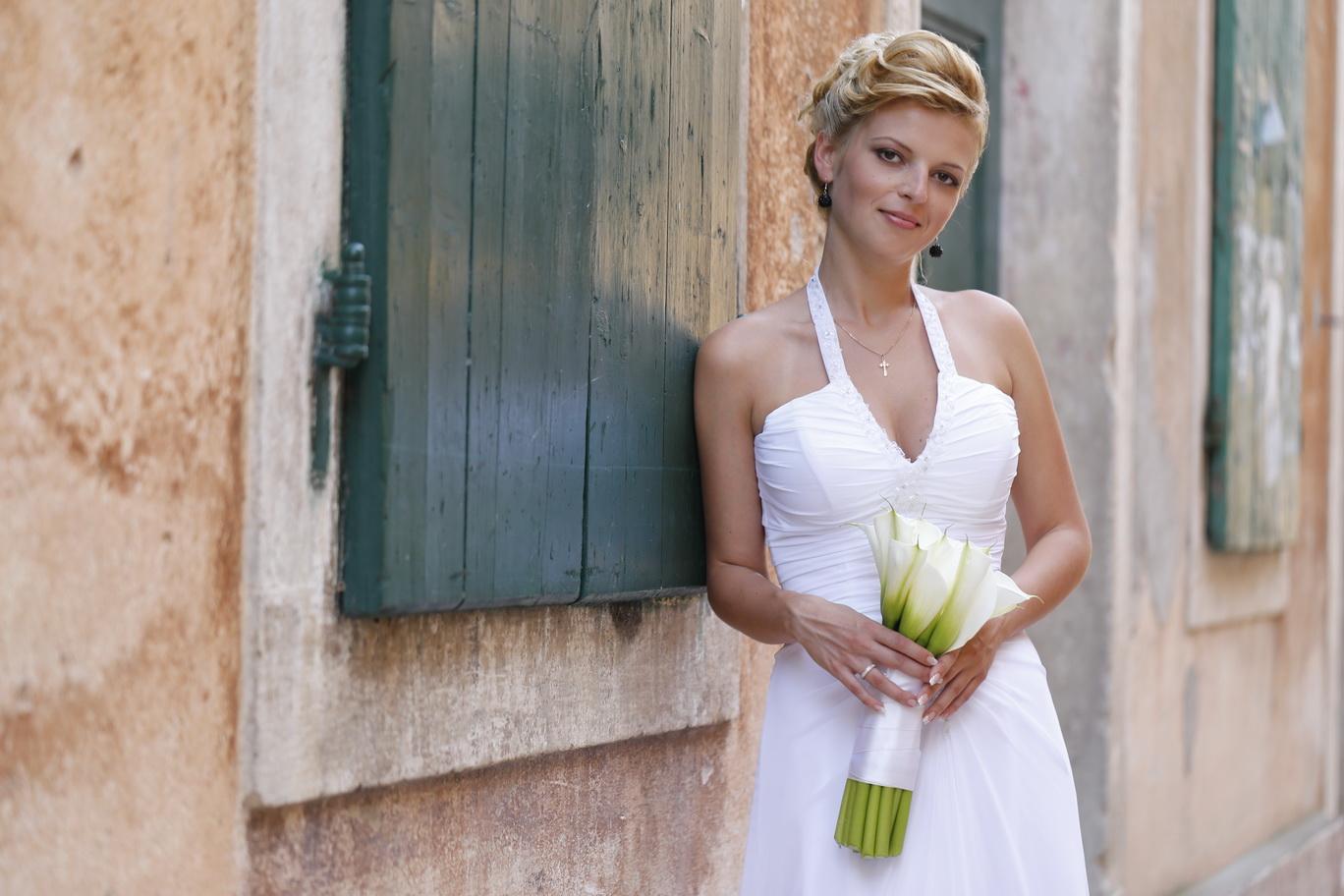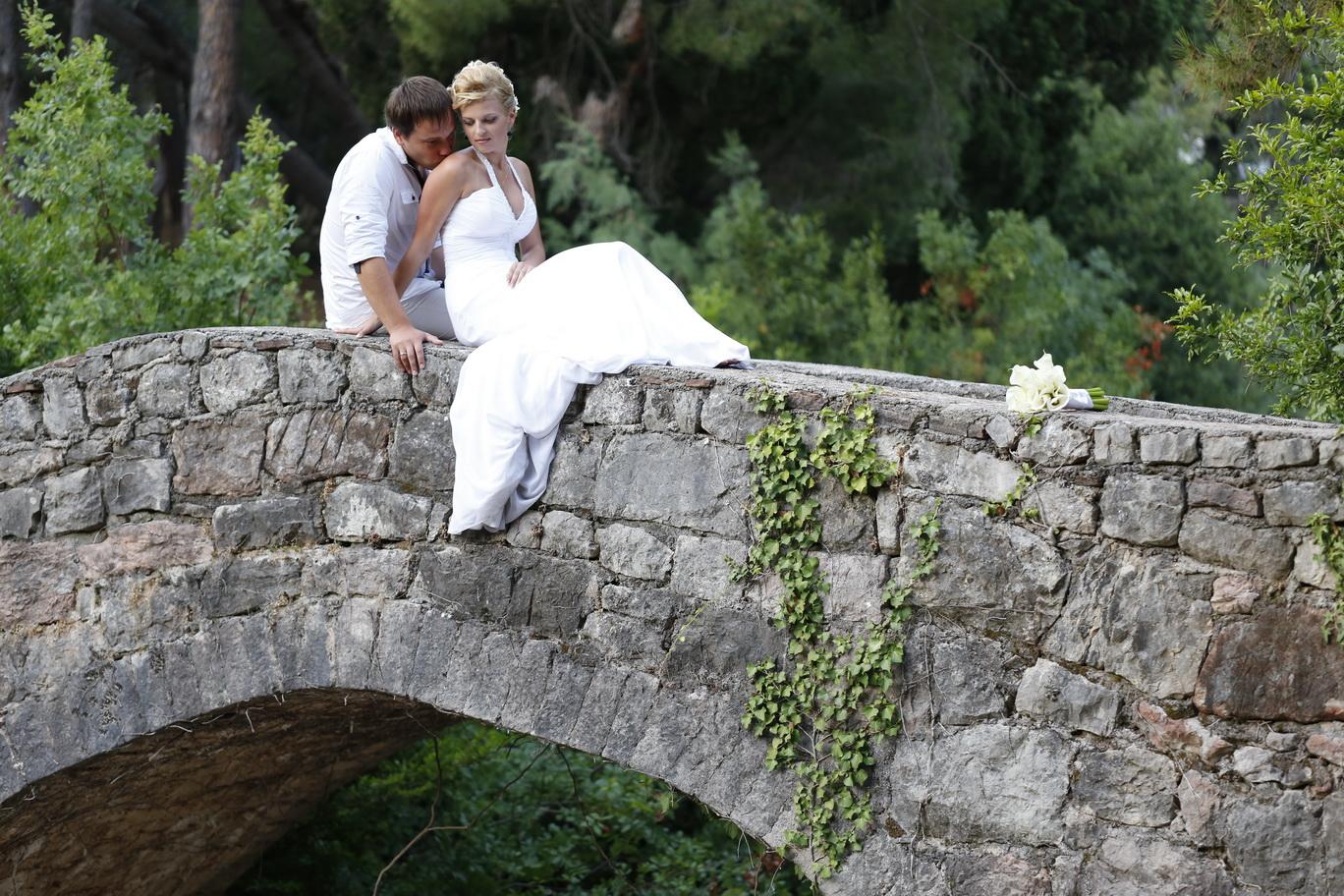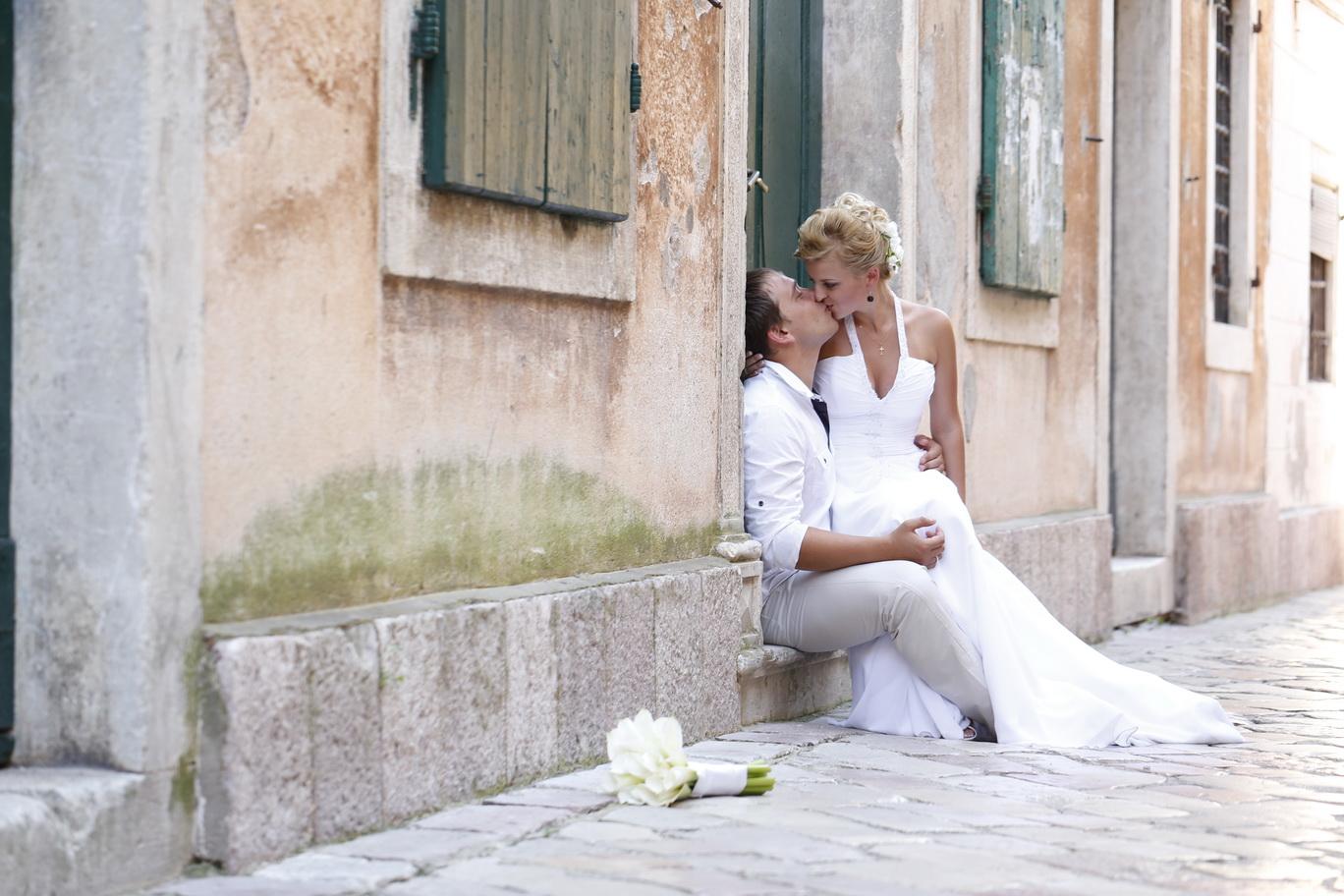 SERGEY & NATALIA
Sergey and Natalia and our wonderful parents. We had a vacation in Montenegro in September 2011. It was not just a vacation, we celebrated our wedding in this wonderful warm country. We wanted amazing impressions, an adventure to remember. We were choosing from among several countries. Our final choice was Montenegro, because, firstly, we had not been there yet, secondly, the country is not far to fly, and last, it is visa-free! Everything seemed difficult at first, but it was until the moment I found this amazing team of young, positive and creative people. There were not many reviews of DSA then, but they were exceptionally good. Communication with the guys was easy and pleasant. Before we found DSA, we already negotiated with a few other companies, but unfortunately I can not say anything pleasant about these companies as it felt like extorting money. The guys at DSA treated us warm and with an individual approach. Our wedding was amazing in many ways thanks to the efforts of this friendly team! We were satisfied with everything, but there were also our parents with us and this means another age group! And even though I am quite busy now, I have not even made a wedding album yet, I have registered on this site to say thank you from all of us. I am ready to advertise and sing odes to DSA, as they really deserve it! Thank you!
Sergey & Natalia